Contributing Author to America's Notable Women Series, Apprentice Shop Books: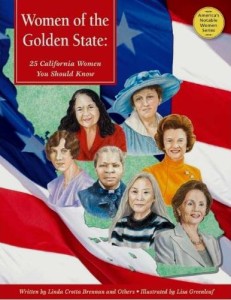 By Linda Crotta Brennan and Others (including Joyce Ray)
Illustrated by Lisa Greenleaf
The profiled California women are strong, creative, and tenacious. These short, biographical profiles are perfect for units on character education. 25 California Women You Should Know.
RL 5.5 – ages 9 and up
Interest level: grades 5 and above (136 pages)
ISBN 978-0-9723410-6-6
Judith Baca – Healing with Art
Judy Baca is one of America's great muralists. Her skills have inspired teens to work together to create public murals about their heritage. Judy was the first in her family to graduate from college. When her grandmother saw her work, she asked her, "What's it for?" This question guided Judy.
As an urban artist, she used her art to build connections between the Latino community and their history. "I knew I had to use this particular skill I had, but it had to be connected with something that had meaning or purpose… and could speak to the people I cared most about, my family and my community."
Source: Signs from the Heart: California Chicano Murals, ed. Cockcroft and Barnet-Sanchez
 Visit Apprentice Shop Books to see more detail or to order.
Featuring 25 California Women
Ethel Percy Andrus
Judith Baca *
Charlotta S. Bass
Juana Briones
Marcy Carsey
Louisa Clappe
Anita L. DeFrantz
Alice Eastwood  *
Mabel Fairbanks
Betty Ford
Dian Fossey
Jessie Anne Frémont
Dolores Huerta
Billie Jean King
Maxine Hong Kingston
"Sox" Kitashima
Dorothea Lange
Ruth Law
Biddy Mason
Janice Mirikitani  *
Charlie Parkhurst
Nancy Pelosi
Sally Ride
Maria Shriver
Maud Younger
* Profiles by Joyce Ray